If you consider yourself a content marketing professional, there's a good chance you already use Google tools the make your life easier.
But regardless of how much experience you have and the results you've achieved in the past, you know there are always new ways to boost your performance.
Social media, just the right keyword tool, Google's Keyword Planner, honing your search term — these things can all have a big impact on your volume and your success as a content marketing pro.
Many people look at Google and see nothing more than a search engine. While there's nothing wrong with wanting to see your website at the top of the search engine giant's results, you can't ignore the process for reaching this goal.
When it comes to content marketing, the tools you use, and the strategies you employ will greatly impact the end result.
It doesn't matter if you're a Content marketing
beginner or have many years of experience under your belt, this post could change your approach.
Below, I'll discuss 10 free Google tools that all content marketers should use.
You may not use all of these tools, and some might not suit your marketing strategy. Even so, I'm confident that you'll find one or two that can alter your approach for the better.
 Google AdWords: Keyword Planner
Are you seeking a tool that helps you find and target the best keywords for your business?
While there are , the Google Keyword Planner remains one of the best ways to conduct keyword research.
There's a lot to like about this free tool, including the fact that it's extremely simple to use.
As a content marketer, many to choose from you should always be searching for keywords that can give your website or a particular blog post a boost.
My top suggestion for using this keyword tool is simple: experiment, experiment, and then experiment some more.
The more searches you run, the more you'll understand how the tool works. Also, multiple searches give you a better idea of which keywords best suit your site.
For example, "content marketing" may be your primary keyword. In a perfect world, you'd rank at the top of Google for this term.
However, you know that this will be difficult. You also know that there are long-tail terms that can increase your search results.
This tool helps you uncover these terms. Check out this screenshot: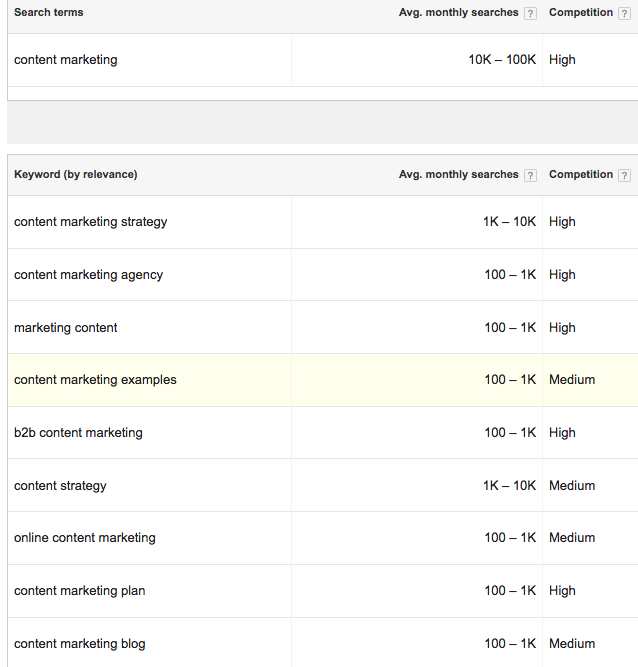 With this in mind, you now have a better idea of what to do next. Maybe you find that "b2b content marketing" is a keyword that makes sense for a future blog post.
At that point, you can plug the term, in as your primary keyword, to dig up even more long-tail ideas.
Even though Google Keyword Planner appears to be nothing more than a basic tool, it does everything right for content marketers who want to uncover keywords that can improve the bottom line: the search result it delivers.